Ethiopia to embark on major privatization drive (Horn Affairs)
Ethiopia's parliament approves government's move to end emergency rule (Reuters)
Ethiopia cabinet drafts early end to state of emergency (BBC)
Ethiopian Geothermal Is Private Equity's Next $4-Billion Bet (Bloomberg)
Addis Ababa: 10 best things to do in Ethiopia's capital (CNN)
Record-breaking Ethiopians take first 10 spots in Dubai Marathon
Ethiopia could be sitting on one of world's great untapped gold deposits
Ethiopia intercepts arms being smuggled into country
Ethiopia's lawmakers approve ban on foreign adoptions
Israeli Company to Invest $500 million in Ethiopia The project has targeted training hundreds of thousands of engineers in addition to improving power supply.
Ethiopia PM 'misquoted' over prisoners Ethiopia's government has denied that all political prisoners will be freed, saying that only some imprisoned politicians will be pardoned. (BBC)
Ethiopia emerges as an African success story. But it still has this 'first world' problem
Ethiopia plans to release political prisoners in bid for national dialogue (Washington Post)
Ethiopia: ዲፕሎማሲያችን - የአባይ ጉዳይ
Faces Of Africa: Rastafarians coming Home to Africa
Bereket, Abadula: Back in Action In an unprecedented move, the Executive Committee of the Ethiopian Peoples' Revolutionary Democratic Front (EPRDF) announced yesterday that Bereket Simon and Abadula Gemeda, two veteran politicians who have opted to leave their government positions some two months ago, will be back in scene and will assume roles as per the assignment that will be handed down to them by their respective parties. (Ethiopian Reporter)
Ethiopia: Crisis in the land of the economic miracle Journalist Martin Plaut considers this to be the beginning of the problems facing modern Ethiopia. "The TPLF and Meles Zenawi were never prepared to allow democracy and real federalism," he told DW. But the focus on ethnic differences in the constitution has not been without consequence:"As soon as you increase the focus on ethnicity and make ethnicity the basis of the state, you basically stoke up ethnic tensions," said Plaut. (Deutsche Welle)
Dam negotiations going on: Interview with Ethiopia's ambassador to Cairo A visit by the Ethiopian prime minister to Cairo should allow negotiations to proceed on the Grand Ethiopian Renaissance Dam, Ethiopian ambassador to Egypt Taye Atske-Selassie Amde tells Dina Ezzat
Egypt wants World Bank to help on Ethiopia dam impasse (Washington Post)
Photos: The architectural mastery of Ethiopia's ancient churches
A colonial massacre in Africa fully revealed for the first time Eighty years ago a colonial massacre of over 20,000 people was carried out by Italian fascist forces in Ethiopia in north east Africa.
Ethiopia govt finally accepts shock resignation of speaker Abadula
Ethiopia's ruling coalition sweats over insecurity as Oromo, Amhara MPs protest The Ethiopian People's Revolutionary Democratic Front (EPRDF), the country's ruling coalition is facing an internal crisis which has led to Members of Parliament (MPs) belonging to two main blocs – the Amhara and Oromia, boycotting parliament, the BBC Africa Live page has reported. (AfricaNews)
Ethiopia Makes U.S.$16 Million in Five Months From Metal, Engineering Ethiopia has collected 16 million dollars in five months from the export of metal, electronics and other engineering materials, achieving 55pc of its target.
Ethiopia's miraculous underground churches For centuries, the origin of Lalibela's rock-hewn churches has eluded everyone except locals, who firmly believe they were carved by angels. (BBC)
Corruption Is Holding Back Democracy and Prosperity in Ethiopia Ethiopia, a huge and beautiful country that straddles the Great Rift Valley just north of the equator in Africa, traces its history to biblical times. (2017-08-07)
Ethiopia opens Sh371bn ($3.61 billion) gap on Kenya's economy The International Monetary Fund's (IMF) latest data indicates that Ethiopia's annual economic output, also known as the gross domestic product (GDP), hit $72.52 billion (Sh7.4 trillion) last year from $64.68 billion in 2015 and is expected to touch $78 ...
Remembering the Eritrean dream on Independence Day Unfortunately, there is not much to celebrate on the 26th anniversary of Eritrea's independence...
Eritrea Government Detained More Christians In New Crackdown "The Eritrean government is one of the most repressive in the world. Thousands of prisoners of conscience of all faiths and none are detained arbitrarily and indefinitely in an extensive network of detention facilities where conditions can be life threatening and torture is a regular occurrence"
Christian prisoners who died under Eritrean regime to be honoured at protest vigil The Eritrean regime is responsible for 5000 Eritreans fleeing the country every month...
Ethiopia aims at transforming speciality coffee market Government reforms are designed to encourage farmers to produce more high-quality beans... The diversity of Ethiopia's coffee is unique, there's no other country in the world that has it. In terms of quality it's number one...
Pizza Hut expands into Ethiopia Pizza Hut is set to open three outlets in Ethiopia this year, becoming one of the first international restaurant chains to enter Africa's second-most populous country...
The famine the Eritrean government doesn't want you to know about Nurses have been banned from using cellphones, but have smuggled out images...
Ethiopia announces arrest of '98 Eritrea sponsored' rebels in last 2 months Ethiopia has also accused Eritrea of accommodating persons behind the Amhara and Oromia protests that have swept through the country since November 2015...
Take a look at the plans for the new Ethiopian cultural garden The Cultural Garden Federation approved plans for a new Ethiopian cultural garden to take root along Martin Luther King Dr., the first of the gardens to pay tribute to an African nation. The garden's goal is to pay tribute to Ethiopia as a birthplace of civilization...
The extraordinary life of Ethiopia's 93-year-old singing nun She sang for Haile Selassie but later retreated from the world, living barefoot in a hilltop monastery, perfecting her bluesy, freewheeling sound...
Athletics - Ethiopia's champions in Boston to defend marathon titles Ethiopia's Lemi Berhanu Hayle and Atsede Baysa will line up among the world's top distance runners on Monday to defend their Marathon titles...
Go to Ethiopia for Ancient History, Jazz, and a Capital City on the Rise Head from the cradle of civilization to the new cultural hot spots of Addis Ababa...
Hungry and desperate, thousands of Somalis trek to Ethiopia Menaced by Al Shabab militants and a worsening drought, thousands of Somalis are abandoning the land to seek refuge in neighbouring Ethiopia.
As Trash Avalanche Toll Rises in Ethiopia, Survivors Ask Why At least 113 people, according to the latest government estimate, were killed when part of the Repi landfill, in the southwest of Ethiopia's capital, Addis Ababa, collapsed.
A Global Competition For Influence In Ethiopia On the flight from Rome to Addis Ababa, the Ethiopian capital, flight attendants hand out Chinese-language magazines
Dangote Cement Faces Disruptions in Ethiopia Over Jobs Plan Ethiopian regional officials are demanding that foreign cement producers including Dangote Cement Plc hand control of some parts of their businesses to groups of unemployed youths.
Adwa, GERD - Two of a Kind in Creating Popular Solidarity Ethiopian Herald
Drought emergency spirals in Ethiopia amid major aid shortages Millions of drought-stricken Ethiopians needing food, water and emergency medical care are not receiving it due to funding shortages, the United Nations said, warning the crisis will worsen if spring rains fail as ...
Egypt sneaky strategy against Ethiopia - South Sudan... In an exclusive interview on Sunday, a former Ugandan intelligence agent told the South Sudan News Agency (SSNA) that Egyptian government is actively pursuing a sneaky military strategy against Ethiopia's Grand Ethiopian Renaissance Dam (GERD)...
If Ethiopia started to develop its coffee industry, it could trade its way out of povert If Ethiopia started to develop its coffee industry, with roasting, packaging and quality control taking place at origin, it could create millions of jobs and triple the country's income from coffee to €2.5 billion a year.
UCLA archaeologist enlists community to help preserve cultural heritage in Ethiopia Near the small village of Mai Adrasha in Ethiopia, UCLA archaeologists found themselves digging into more than dirt.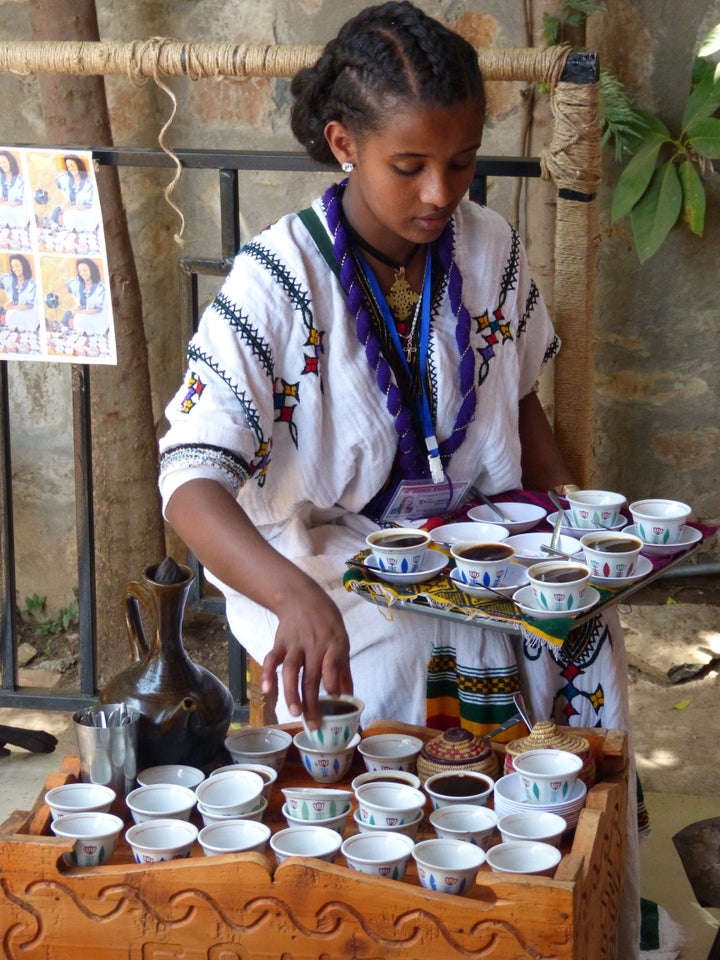 Living History in Ethiopia The chanting of the two boys sitting under the tree reminded me of my Bar Mitzvah class over 60 years ago. The language was different - Amharic, not Hebrew - as was the religion - Ethiopian Orthodox, not Jewish - and the boys bore little resemblance ...
ETHIOPIA AND ERITREA TRADE ACCUSATIONS OVER GRAND DAM 'ATTACK' Ethiopia's deputy government spokesman, Zadig Abrha, told the state-run Fana Broadcasting Corporation that 20 members of an Eritrean rebel movement—known as the Benishangul Gumuz People's Liberation Movement—had been apprehended while attempting to attack the site of the Grand Ethiopian Renaissance Dam (GERD).
Ethiopia: simpler phone, smarter choice? These mobile phones can also be a source of electric light after dark. The built-in radios also perform well and some feature phones can even access the internet.
AccorHotels signs deals to open three hotels in Ethiopia Europe's largest hotel group AccorHotels (ACCP.PA), will open three hotels in Ethiopia by 2021, becoming the latest international chain to tap into the growing business and tourism sectors in the country.
Rare Black-Maned Ethiopian Lion Caught on Video A National Geographic explorer spotted the adult male on a recent expedition to Bale Mountains National Park.
1 million trees planted for Ethiopia refugee camp A million trees are to be planted in Ethiopia to fight deforestation around camps hosting hundreds of thousands of South Sudanese refugees who rely almost entirely on wood for fuel
Highlights from the highlands of Ethiopia
Ethiopia looks to mining to add shine to its success
Ethiopia Tire Market to Surpass USD180 Million by 2022: TechSci Research
Ethiopia great Haile Gebrselassie willing to send dopers to jail but calls for Russian return to athletics
Ministry to launch school feeding for over a million students in drought affected areas
Ethiopian shoe designer hopes for repeat success with coffee
Incredible pics show vast desert basin at heart of Ethiopia's salt trade where miners toil in 50C heat The Danakil Depression is one of the hottest, driest and lowest places on the planet
Secretary of State for International Development Priti Patel: It is in Britain's interest to create jobs in Ethiopia The UK wants the aid and development money it gives to countries like Ethiopia to focus on trade, jobs, investment and skills and not just the "traditional" aid programmes of handouts to alleviate immediate crises.
As new drought hits Ethiopia, UN urges support for Government's 'remarkable' efforts Commending the Ethiopian Government and humanitarian partners on the response to last year's El Niño drought that left 10.2 million people needing food assistance, United Nations Secretary-General António Guterres and UN aid chief ...
MBA students help Ethiopia tackle the impact of urbanisation Before the students arrived in Ethiopia, they researched local business practices studied the city's policies on land use and zoning.
Candidates from Ethiopia, United Kingdom, and Pakistan will compete for WHO's top slot
What will happen to Eritrean asylum seekers after Israel deports them? Israel plans to force asylum seekers from Eritrea to choose one of three heinous options: imprisonment in Israel for an unlimited time; returning to Eritrea; or leaving Israel for one of the "third countries."
See also: Myths, facts and suggestions: Asylum seekers in Israel
Ethiopian President all praise for makers of Jaipur Foot
Ethiopia, Sudan vow to elevate cooperation in various fields Ethiopia and Sudan reaffirmed commitment to bolster existing bilateral cooperation to a higher level.
Books on the Go: What Keeps Addis Ababa Reading
Egypt Rejects Handover of Islands to Saudi Arabia, Foreshadowing 'Iran Pivot'
Egyptian court rejected a plan by President Abdel Fattah al-Sisi to transfer control of two Red Sea islands to Saudi Arabia, a move which some analysts say could set the stage for Egypt to make an "Iran pivot."
Ethiopia's emerging wine industry luring consumers locally and abroad But 10 years ago, Zenawi's vision for a purely commercial operation in Ethiopia was still relatively unique, and Castel bought in.
South Sudan denies striking anti-Ethiopia deal A South Sudanese diplomat has downplayed recent rumours that the young nation allegedly struck a deal with an undisclosed party against Ethiopia.
New drought strikes millions in Ethiopia, still reeling from El Nino "Last year, (we were)... able to mount the biggest drought response operation in global history. Today we need that partnership once again as we face a new drought," said Mitiku Kassa, head of Ethiopia's National Disaster Risk Management Commission.
Djibouti-Ethiopia railway carries hope for pan-African trade Addis Ababa line to the sea hailed as first step in tapping vast commercial potential
Why are cars so expensive in Ethiopia? Once all taxes are added to an imported car's price tag, it could cost nearly three times more than the retail price in its country of origin. (BBC)
University of Toronto begins teaching ancient Ethiopian language The ancient Ethiopian language of Ge'ez is written in a script that's read left to right and has 26 letters.
Ethiopia says to launch satellite into orbit in 3 to 5 years
Addis Ababa-Djibouti Railway Officially Completed, Creating High Speed Link Between Djibouti and Ethiopia
Trekking the Simien Mountains: Inside Ethiopia's dying World Heritage Site
The Grand Ethiopian Renaissance Dam Gets Set to Open (IEEE)
In Ethiopia, the elderly get new help from an old too As Ethiopia has begun to age, the idir has started to serve a new purpose beyond end-of-life services: helping elderly residents live their daily lives when they no longer have family members nearby. (Christian Science Monitor)
Ethiopia is on a path to become Africa's China in more ways than one
The Ethiopian Guide to Famine Prevention Facing its worst drought in half a century, the country thwarted disaster and created a road map to respond to future climate emergencies. (Bloomberg)
Egypt-Gulf relations tested by Saudi visit to Ethiopia dam Egyptian media lashed out at Saudi Arabia over a high-level Saudi delegation visit to the Grand Ethiopian Renaissance Dam (GERD) during a short trip to Ethiopia on Friday.
Ethiopia completes 1.5 billion euro power plant, seen doubling power output
Sacred Mysteries: Ancient Ethiopian echoes of Roman antiquity
BALE MOUNTAIN LODGE, ETHIOPIA The British owner of Bale Mountain Lodge on why she opened a hotel in one of Africa's last great wildernesses (LODGE Website)
Development of Ethiopia's Yayu Biosphere a Lifeline for Organic Coffee
Facebook, Google take aim at fake news by blocking ad revenue (PBS)
As fake news takes over Facebook feeds, many are taking satire as fact (the Guardian)
Walk with pilgrims on a journey to Lalibela, Ethiopia's New Jerusalem CNN
THE PEOPLE OF ETHIOPIA'S FORESTS
UN Extends Arms Embargo On Eritrea
Egyptians arrested in Addis (Capital 2016/11/07)
Donkeys Are Finally Getting More Respect
Is Twitter Hurting Ethiopia? "...Social media soon pulsed with claims that a government helicopter circling overhead had fired into panicking crowds. A helicopter had indeed been there, but it was dropping leaflets wishing all a 'Happy Irreecha' ... Social media appears to be just as effective in spreading untruths and even ethnic barbs in Ethiopia. Many of these have an anti-Tigrayan slant" The remedy against such misinformation intended to incite violence is to get organized and fight back using the same media outlets.
Who is Isaias Afwerki, Eritrea's Enigmatic Dictator?
Inside Africa's Most Repressive State, author Martin Plaut reflects on Eritrean President Isaias Afwerki... The country has never held an election: President Isaias is an absolute ruler without a democratic mandate ... He led his people to independence and the dictator now holds them in servitude. (Newsweek)
Ethiopia names technocrats, new ministers in reform government
Eritrea must be hauled before ICC for rights violations – UN body
Ethiopia Moves to 'Rehabilitate' Opposition Protesters
Ethiopia: National Flag - Symbol of Nation's Bright Future (Ethiopian Herald)
Ethiopians adjust to life in Africa's most ambitious social housing project (Reuters 2016-10-25)
Ethiopia unrest fueled by HRW and opposition in diaspora – Foreign Affairs chief
Ethiopia Accuses Egypt for forcing state of emergency; Egypt Denies Accusations (AwrambaTimes 2016-10-12)
Ethiopia PM seeks to 'reform electoral system' after protests (AFP 2016-10-11)
Washington Post, by Tesfaye Wolde - 2016/10/16
Ethiopia's State of Emergency Will Work
In Ethiopia's war against social media, the truth is the main casualty (Washington Post 2016-10-14)
Teff could be the next quinoa as Ethiopia boosts exports